We spent more than a year by careful planning of details, giving thought to every pocket and loop, taking into consideration overall functionality and testing. Eventually, we managed to combine the materials of the highest quality with a neat modern design, and we created the TENDON Gear Bag backpack.
Our 45 l climbing backpack has your back in every situation. It will protect your rope, help you carry your climbing gear, and it will make access to the rocks much easier. It will accommodate all your equipment, and your climbing partner's, too. And the snacks, of course!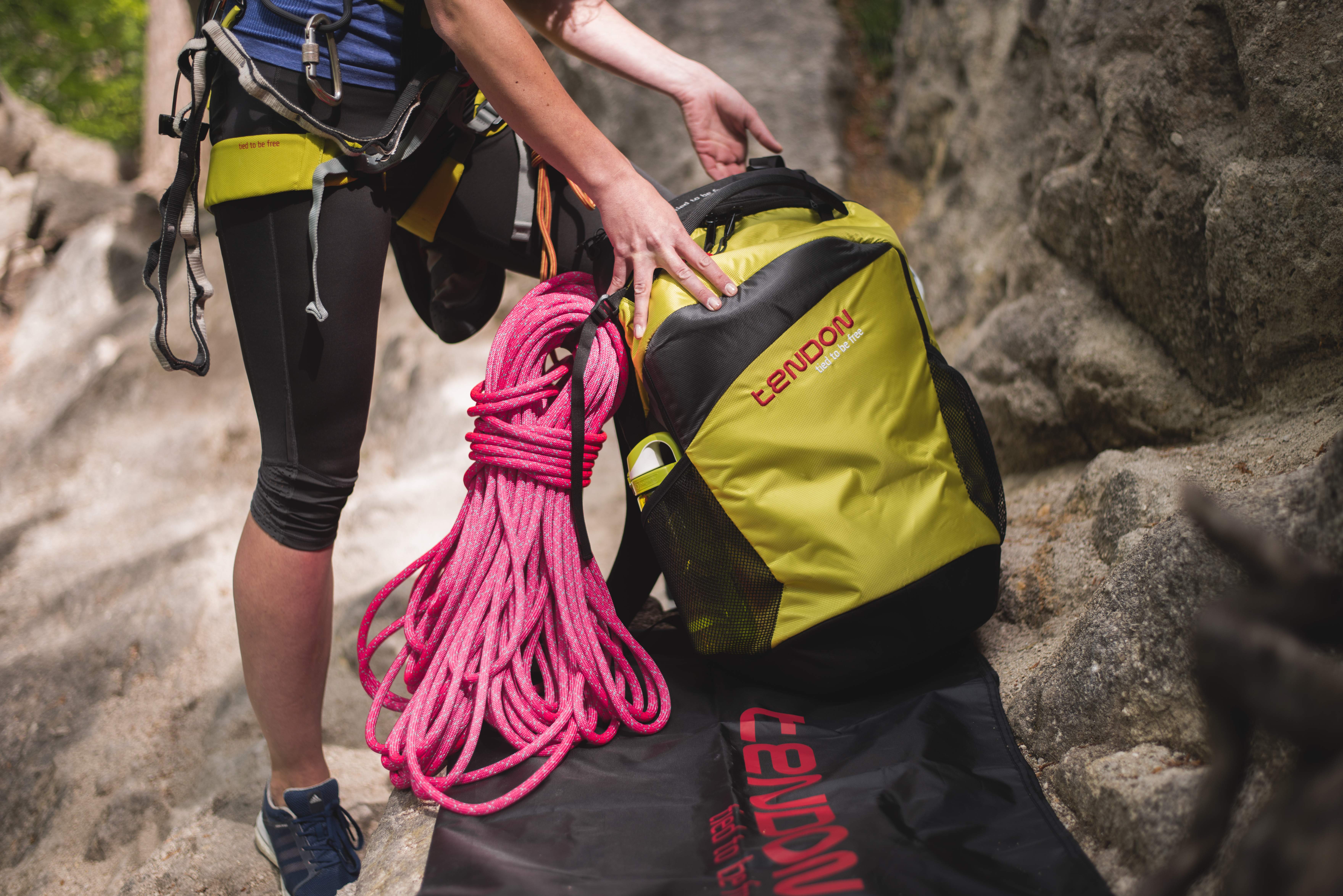 A useful partner in every situation.
What makes Gear Bag so special?
The zipper encircles almost the whole edge and allows easy access to the main chamber with plenty of pockets and loops for organizing your gear. There is a handy little pocket with a zipper in the upper part of the backpack, where you can put small equipment or a guidebook. A removable mat for sitting on a cold rock is included in the back system.
You know well how long the access to the rocks can take, so you will definitely appreciate the padded back, anatomically shaped shoulder straps, adjustable sternum strap and hip belt. Gear Bag is very light (860 grams), and after proper adjusting of load lifter straps you won't even feel it on your back.
Needles, sand, rock? Rough handling or rain? No worries, TENDON Gear Bag is made from robust 1000D polyester with polyurethane coating, so it is really sturdy. Moreover, the backpack contains a 140 x 120 cm waterproof canvas which can be put under the rope. This canvas prolongs the rope's lifespan significantly and makes moving under the rock and quick packing easier. There are two loops on the canvas, so that you always know where the ends of the rope are. The knot on the loop also prevents the rope from slipping through the belay device.
The backpack is available in two different colours. You can either choose "our" green, or – if you are a bit more restrained as far as the colours go – you can enjoy the black version.
Watch the video and see how it all fits together and how great it works: