In autumn our ambassador Zdeněk "Háček" Hák and Jakub Kácha made a first ascent in the western face of Ama Dablam (6812 m). We bring you a short interview with Háček about the rope strategy for this difficult ascent. They carried it out using our thinnest rope – Master 7.0
Which rope did you use and why did you choose it?
We climbed on the Tendon Master 7.0 rope, and the reason was quite prosaic. As there was a weight limit of 20 kg per luggage for my flight, I tried to travel as light as possible. As for the ropes, I took 30- and 80-meter Master 7.0 with me. I shortened the rope to the 30-meter length in Pakistan where Mára (Marek Holeček) and I were doing a first ascent to Gasherbrum I (8080 m).
I joined the autumn expedition not only to climb, but also to work, so I took the 30-meter rope as an auxiliary rope for the commercial ascents where I acted as a mountain guide. In the end I used it to climb to the main summit of Lobuche East (6119 m) with Rosťa, and to reach the summit of the southwestern ridge of Ama Dablam (6812 m) with Kuba. Together with Ratlík (Jakub Kácha) I eventually decided to cut the 80-meter rope and make a 60-meter rope out of it, which I would use on the southwestern faceof Ama Dablam because it has lesser weight and its handling is easier.
How did you proceed? Did you double the ropes or were you climbing on one strand?
We planned to double the rope in the hard sections and thus shorten the pitches, but in the end, we didn't put this strategy in practice and we were climbing just on a single rope.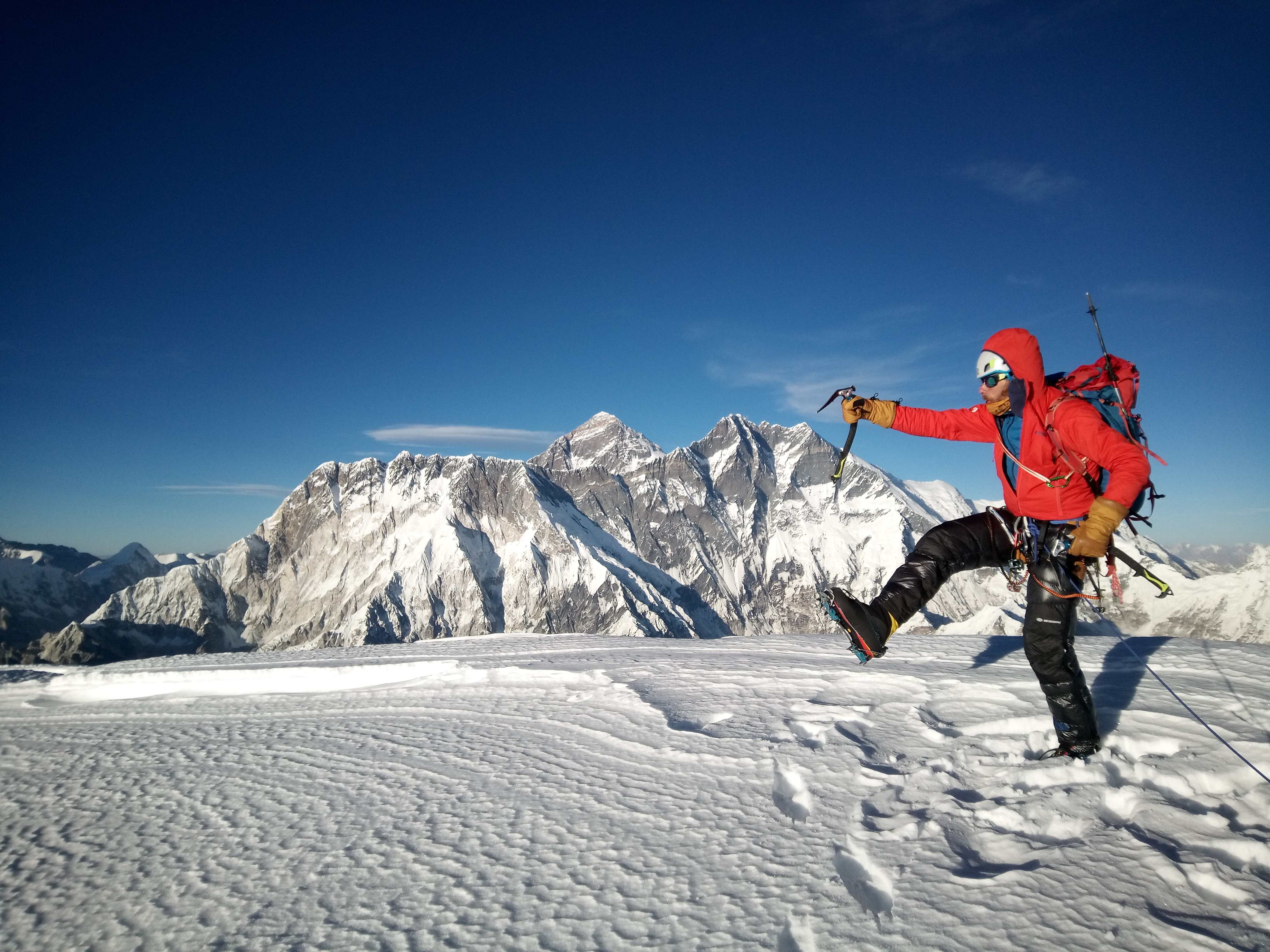 Háček celebrates in his own way
Did you use the Master 7.0 rope on other mountain trips, too?
Almost every time :) I think Mára and me always used this type of 80-meter rope. We were climbing on one strand and used it for 40-meter abseils.
If you were going to climb a hard technical route in big mountains again, would you change something about your rope strategy?
It sure depends on the character of ascent and descent. This year, on our spring expedition to Kangchung Shar (6063 m) Banán (Jaroslav Bánský) and I carried two 60-meter Tendon Master 7.8 TeFIX half ropes, mostly because of the predominantly rocky terrain with long and difficult abseiling.
We knew that we would descend Ama Dablam using the fixed ropes, so we took a risk and had just one 60-meter double rope for the ascent. Every gram counts in big mountains. For example, one kilogram of rope equals to the weight of liquids for a day or food for two days. An ideal option would be a half rope, probably "your" new Master Pro 7.6 combined with Master 7.0.
What is missing from your rope equipment? What could our R&D guys help you with?
Well, we've been talking about some sort of a rough 6 mm reep cord which could slip through the belay device similarly to a half or single rope. It could work as a second rope for abseiling...
Thanks for the interview!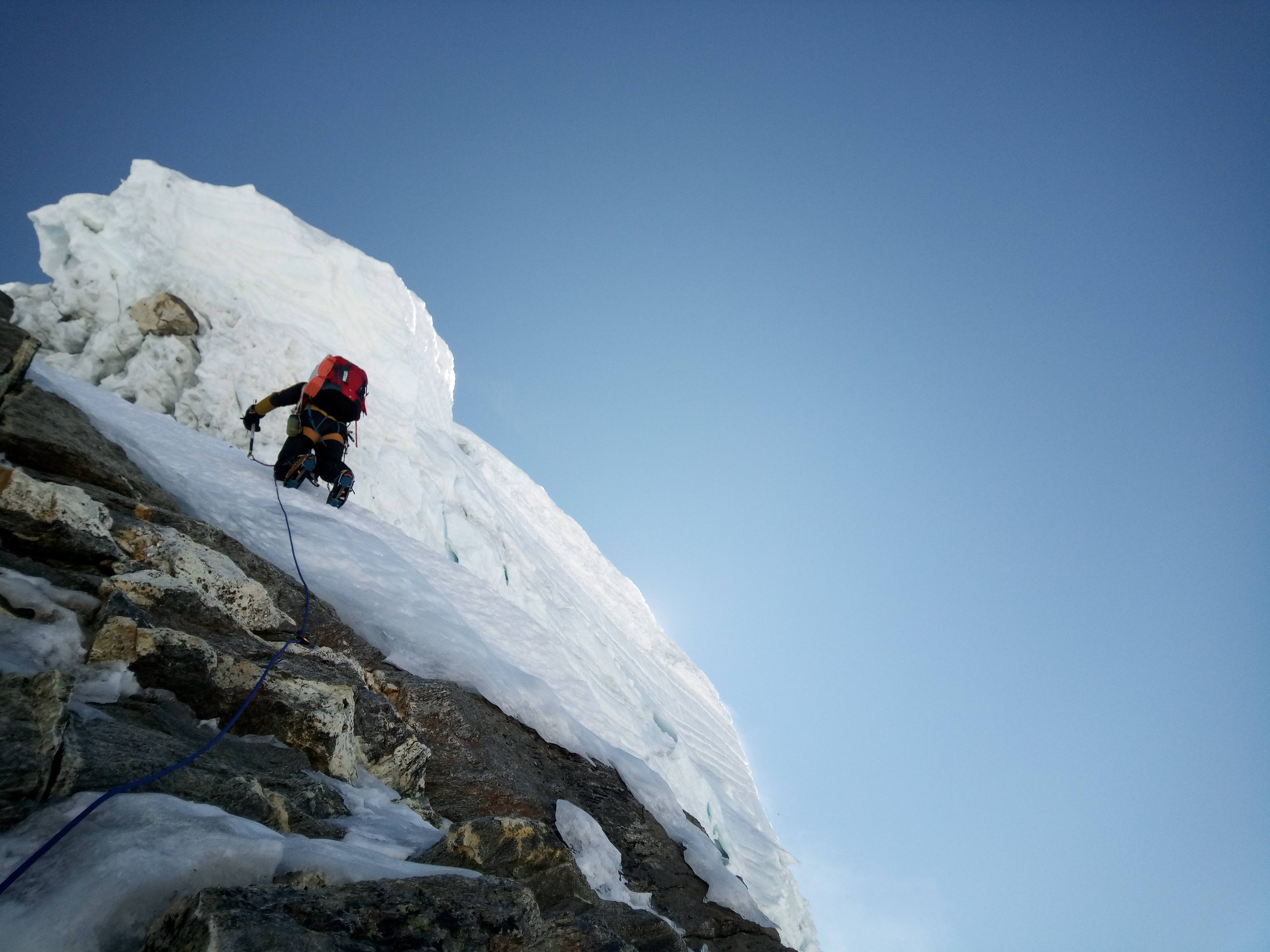 "Nepalese delicacy" in the form of unstable overflows
A Ballet on a Master 7.0 "Shoelace" by Tendon
Our autumn trip to Nepal was a bit different than usual. Although my plans were very ambitious, I did not cling to them. However, later this was about to change radically because of the climbing conditions and weather…
I flew to Himalayas with my friend Kuba Gembal to help him as a mountain guide on his dream ascent of the Ama Dablam mountain. We made a deal with Honza "Tráva" Trávníček and joined his expedition to this iconic peak. We went to Lobuche East, a nearby six-thousander, to acclimatise. Almost everyone climbed it eventually. For some it was the main goal of the expedition, whereas for others it was just a place to acclimatise before climbing one of the most beautiful Himalayan mountains. Six climbers came to the Ama Dablam's base camp in the 14 days since our arrival to Lukla. Tráva, Miri, Rosťa, Kuba, Jenda and me. Daw was coming, too. He arrived in Nepal a bit later, and he and Kuba Kácha called Ratlík, whom we met at the airport, were hard on our heels. We didn't know much about this Ratlík guy, though...
The base camp provides us with all the service and plenty of opportunity to rest before the ascent along the southwest ridge, today's most common route and a popular destination for climbers from all over the world. But I'm still fascinated by the western face of the mountain. There are much steeper, higher, more difficult or inaccessible walls in the world. But from this side the shape of the mountain is almost perfect, that's probably why it is one of the most frequently photographed mountains in the world. The atmosphere reminds me of the north face of the Eiger during the period of the first attempts to climb it. Everyone can see the wall, so anyone who starts climbing there is immediately under scrutiny of climbers, sherpas and other visitors of the base camp. It's like Kleine Scheidegg long ago… but no one is climbing here. I believe in my ambitious plan more and more. After the ascent via the usual route Daw and me will try repeating the ascent of the western face carried out by the climbing legend Míra Šmíd... The conditions are fantastic...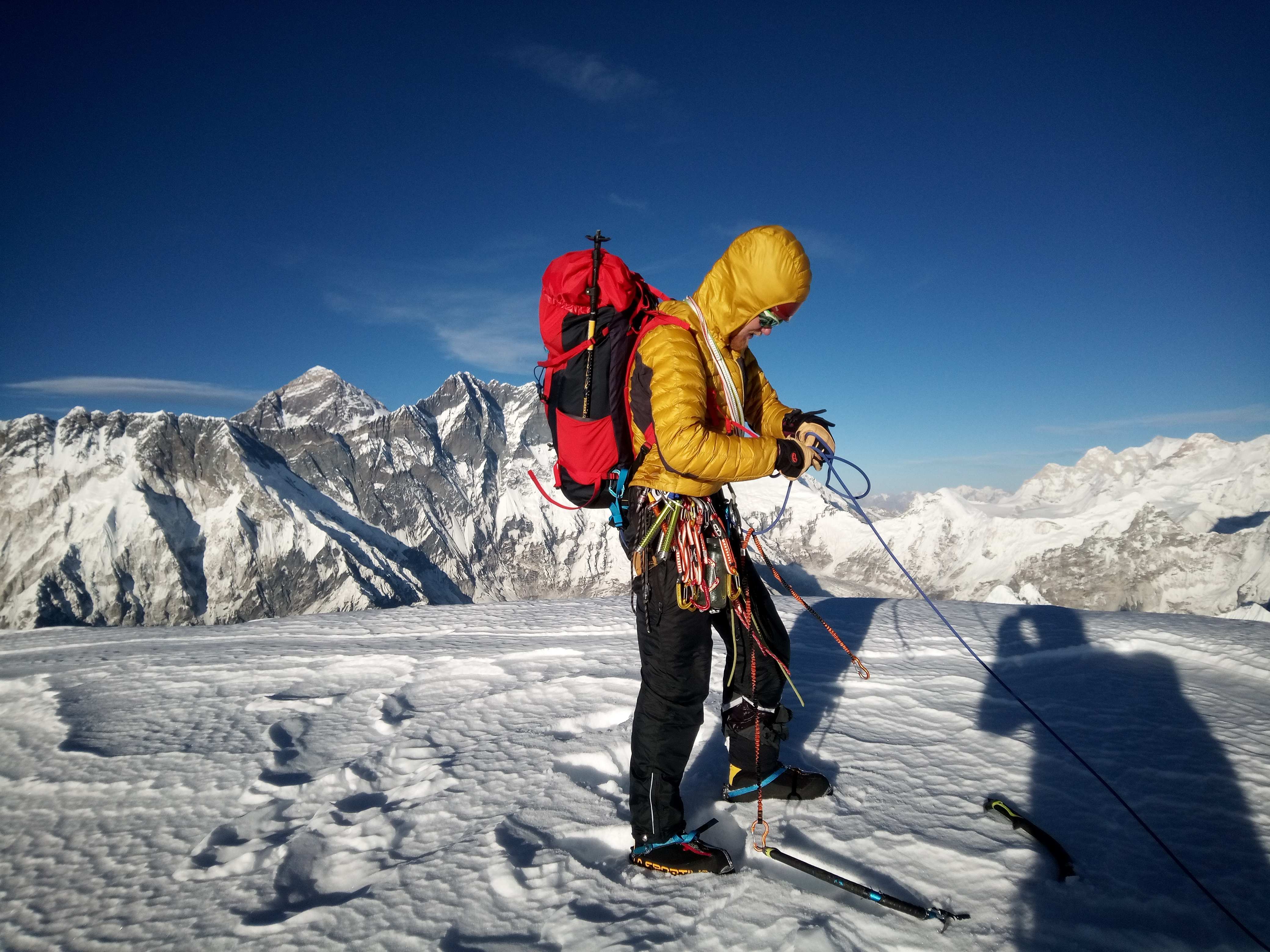 Master 7.0, as thin as a shoelace, served excellent.
Daw and Ratlík came to the camp yesterday, so we don't linger. We have all acclimatised very well at Lobuche and the forecast promises the best conditions possible. Apart from the standard equipment and provisions for four to five days, I put a light attack tent and 30 meters of the Tendon Master 7.0 rope as a backup in my backpack at the last minute. Later we found out how far-sighted this was. So, on the last day of October everyone except for Tráva and Miri set off for C1. In the end Daw, Ratlík and Rosťa are the only ones who get there. Kuba and me pitch our tent a bit lower, at about 5400 m, which is about 400 vertical meters under C1. We reach the camp one day later...
The guys have already left for C2, they wanted to get to the summit the next day (and so they did). We divide the ascent into five days and pitch our tent not only in C2, but also in C3. We reach the summit on Thursday, 4th November, at about an hour before noon. And we are super lucky to be there alone. The local sherpas had set off much sooner, even though it's very cold on the summit so early in the morning. We spend about an hour at the summit before beginning the descent. In C3 we pack our attack tent and wish luck to Tráva and Miri who have just came and plan to get to the summit tomorrow. The next day, after a night at C2 we descend to the base camp.
But there is an unpleasant surprise waiting for me. Daw wasn't very well and right now he's on his way home. Ratlík offers to take his place. I don't need to think about it for long. Ratlík is great choice from both physical and climbing point of view. Moreover, he is a doctor, which comes in handy... J So the only thing limiting him is an injured wrist – he even wears an orthosis. My enthusiasm is back. I wouldn't go by myself.
And I have already made my mind – I'll do this with Ratlík. We start looking at possibilities. Unfortunately, repeating Šmíd's ascent isn't an option. The conditions are perfect but there isn't as much snow as years ago and whatever falls in the upper part of the wall falls through this ascent route. We'll be definitely slower than Lanč who did a solo... Our next option is the left couloir of a so-called "Japanese route". From technical point of view this is probably the easiest option, the overhanging serac in the middle of the wall looks far more ominous. In the end we decide to climb the pillar between the two couloirs. We don't know yet if someone climbed it before. We just want to climb the almost perfect western face with reasonable degree of risk. We don't really care about the exact route; we'll take whatever way we can.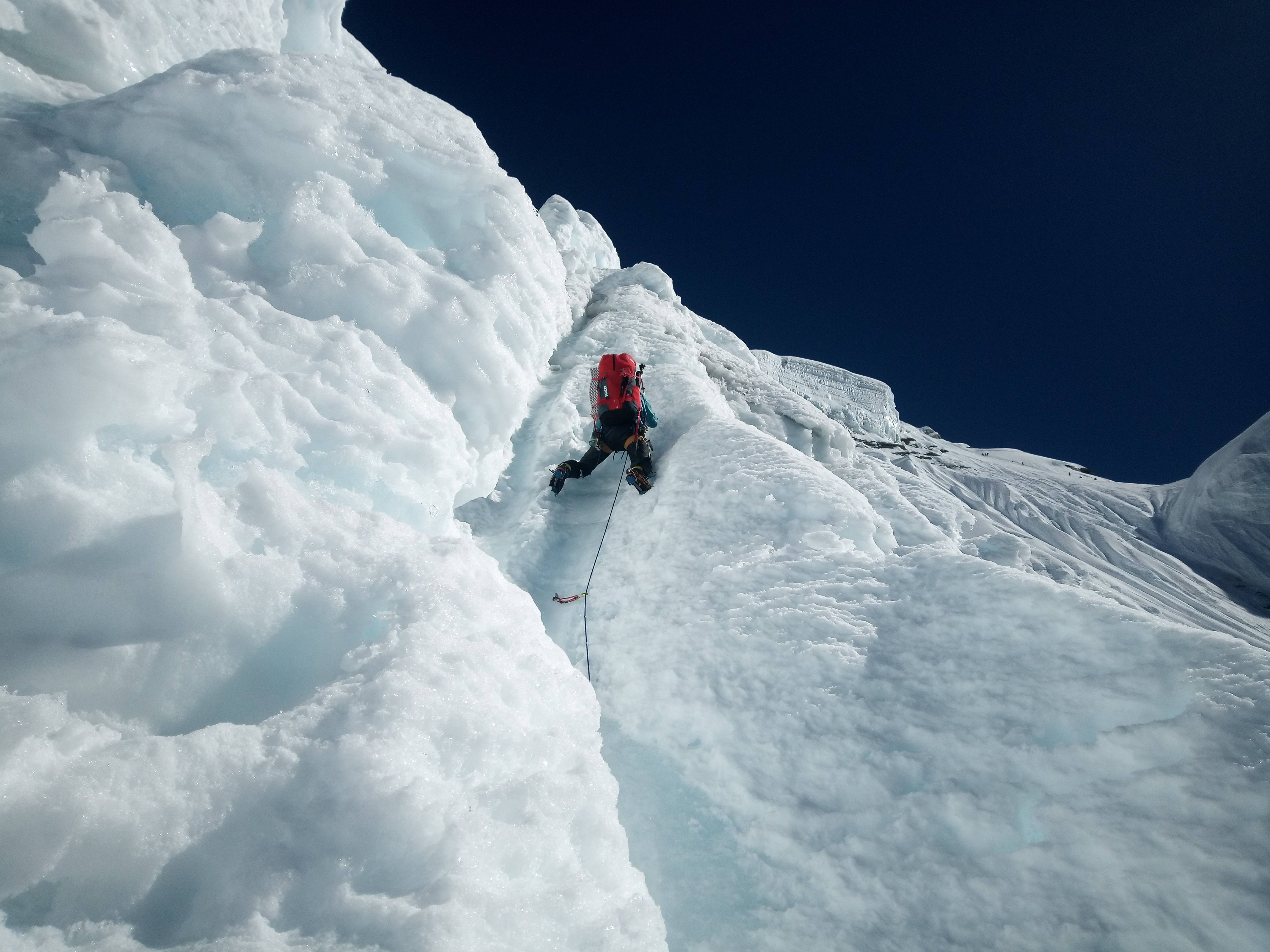 There was no shortage of perpendiculars
Everything goes according to the plan and in the following several days we want to start climbing the wall. But our plans are about to blow up in our faces. Our loyal companion Ongchung tells us that for the new ascent we need a new permit and all the related stuff. All in all, we are supposed to pay additional 6 000 dollars for the opportunity to climb the western wall. I'm so angry and disappointed! We shouldn't pay again to climb a hill we've already paid for... Our dream is starting to go up in smoke. I guess Zuzka wouldn't be happy if I called her to withdraw extra 70 000 crowns from our family budget... And same goes for Ratlík... I'm so pissed off! We've acclimatised more than well, weather as well as climbing conditions are excellent and everything should be ruined because of money? I'm determined not to come back to Nepal ever again... I call Zuzka and tell her, but she has a different opinion. She's convinced that we'll get the money somehow. There is a small ray of hope in my mind... Maybe we could still climb this wall...
Suddenly everything starts gathering pace and within a few hours the decision is made. Subin is arranging for our permit in Kathmandu. Well, let's hope we will have enough money to pay for it... We immediately start packing. Food for 4 days, two gas cartridges, 60-meter Tendon Master 7.0 rope, 4 screws, 4 pitons and 5 friends. That should do. Hopefully we won't have to return from the wall, and we can comfortably abseil from the summit on the fixed ropes. That's our plan. Tomorrow, we'll get under the wall.
It's Tuesday morning, 9th October. We briefly check the packed material, say goodbye to our chef Čakra and then we set off. Today we only need to cover the 700 vertical meters to the wall. We set up our first camp on a rocky island right under the wall, like Lanč did many years ago... Even our tent is orange like his... We dig up a small plateau to make some space for the tent and then we just sit on the rocks, cooking and resting. Sometimes we quote extracts from "Ze života horolezce", the book becomes our bible and source of inspiration for the days to come. We are having lots of fun; I don't even feel the usual restlessness or worries. Quite the contrary, I can't actually wait for tomorrow. The weather and conditions are amazing. This just can't turn out badly, I'm thinking...
We don't like leaving our warm sleeping bags in the morning, but eventually we manage to set off at about six. The wall where we will start climbing is about 200 vertical meters away from us. The terrain is a bit steeper than we expected, so we set up the belay at the first pitch. It will go like this throughout the whole ascent... On the first day we climb about 13 pitches, that is about 700 meters of mostly mixed climbing.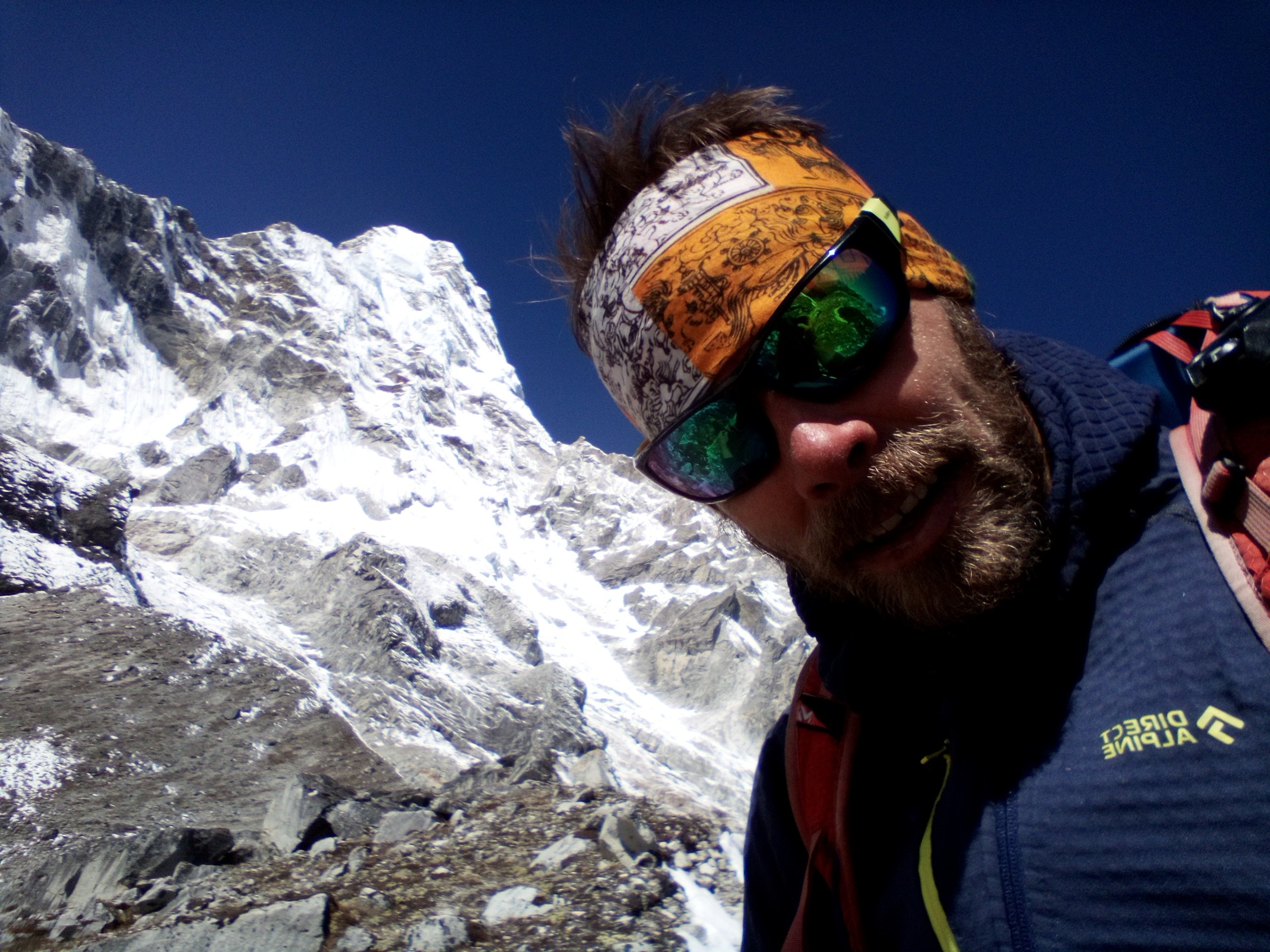 Háček before entering the wall
We pitch our tent at the only possible place – a tiny 1,5x1,5m plateau. It is quite comfortable, except that our feet are dangling in free space. Sun had disappeared behind the horizon long ago and it's quickly getting cold. Tomorrow we plan to climb just about 300 vertical meters, so we don't have to rush... But the terrain... This section looked like a tiny snowy patch from below, with only one complication – a serac that we needed to climb over or bypass from the left. The reality is much more complicated, though.
There is a series of steep ridges with unstable snow cover. This short section takes the whole next day. Just 8 pitches. We're totally exhausted and barely able to set up a tent under a huge edge crack in about 6300 meters. Hopefully, we'll finish it tomorrow! If we overcome the rocky stretches and reach the level of the large serac, the way up to the top should be just a matter of physical performance and a bit of an attitude. Before sleep Ratlík reads from Šmíd again. We joke about his description of vertical terrain and "five-class" climbing.
But we are terribly surprised in the morning. Climbing is really tough today. The conditions are still pretty good, though. In a moment we get above the upper serac. The Americans had their last, third, bivouac here, and then they finished the climb using the common route in the right. As opposed to them, we had to go far to the left to bypass another crack, which puts us dangerously close to the rock wall. This way won't work. It would be too dangerous. The sun is shining, and the first stone projectiles come soon. We need to get further to the right. The terrain is safe there. Unfortunately, it's also a bit more difficult to set up belay.
Several times we had to climb from a steep ridge with loose and unstable snow to the next of the gullies leading to the summit. Šmíd mentioned this, too. Good that there are two of us, though belaying over the "deadmen" is almost impossible. We don't dare to attempt a solo. We're exhausted. But at least we can rest a bit at the belay station. We admire Míra more and more for doing this on his own. His records indicate that his conditions were very similar to ours. Just 100, 50, 10 meters left... and at 4.30 p.m. we are standing at the summit.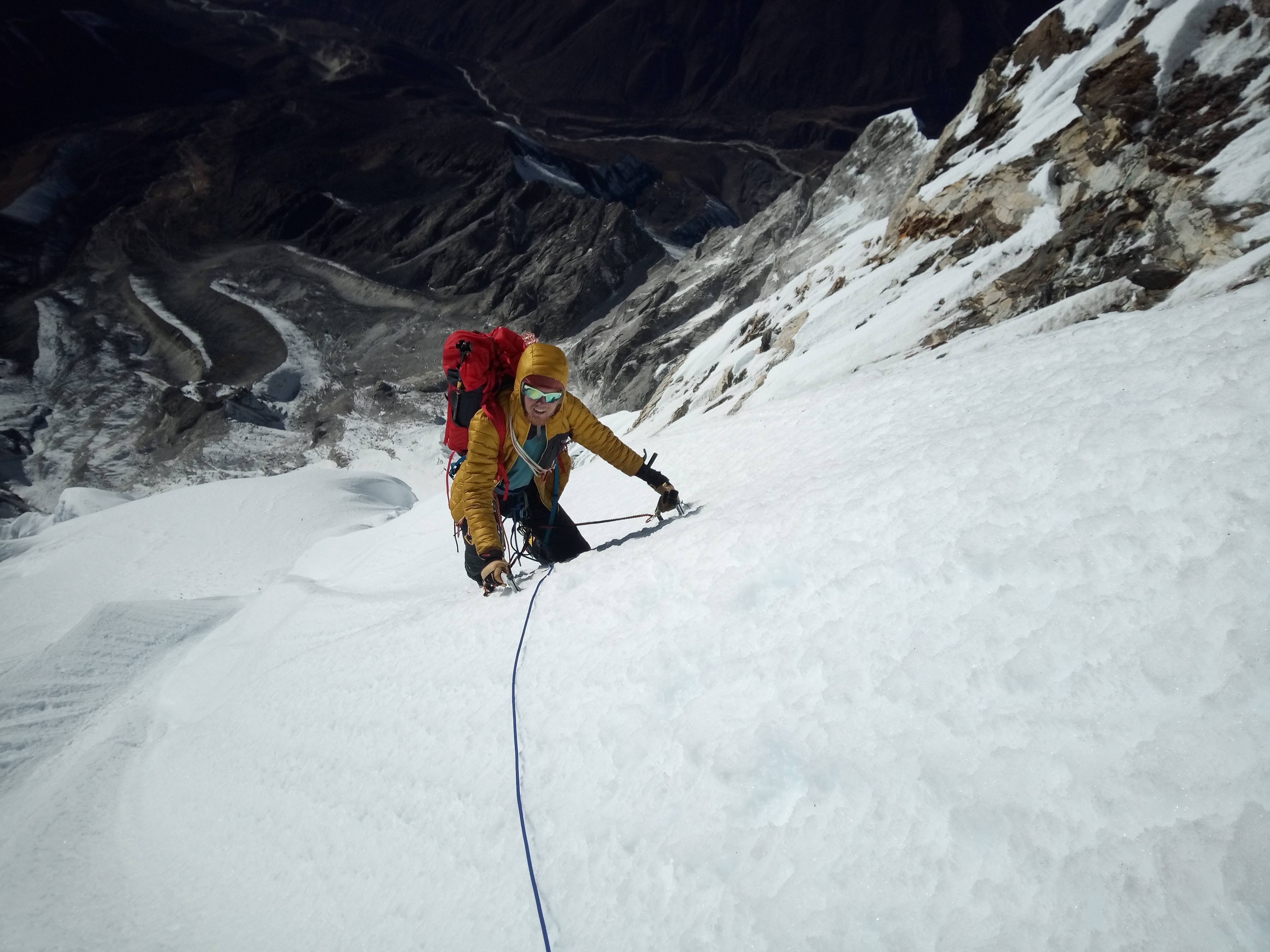 Last meters to the top
Whew, that was tough. The wind is mild and it's not too cold. We spend several tens of minutes there. However, it is going to get dark in an hour. So, we don't wait and start descending on the fixed ropes to C2 where it's already getting dim. We put on our headlamps, and it takes about an hour to get to C1 where we have our agency tent. So we can go straight to bed. Good! The next morning we are already in the base camp, eating our luncheon meat with sausages and beans for breakfast.
In memory of Míra Šmíd's legendary achievement we named our combination of two routes (American Direct and Šmíd) "Lančmít direkt" with the grade of TD+/ ED-. I would like to thank all our sponsors, Subin from Utmost Adventure for perfect service and all those who spontaneously gave us financial support or who just kept their fingers crossed for us.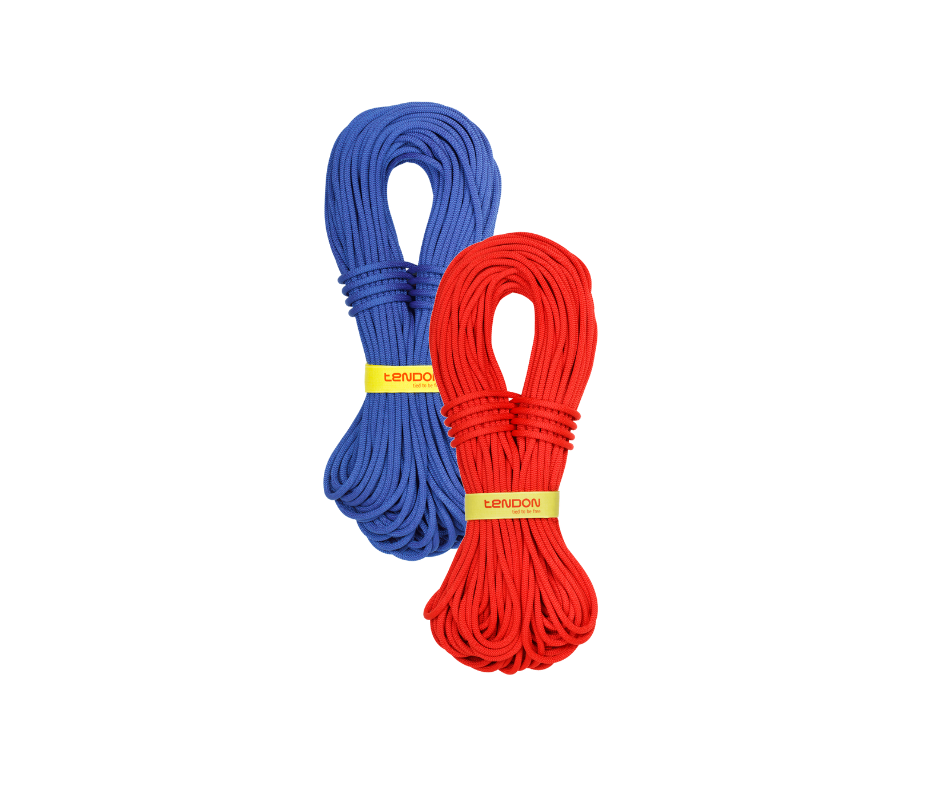 During the first ascent to Ama Dablam, Háček used Tendon Master 7.0 ropes